Agility to the Core. How Agile can drive an Organization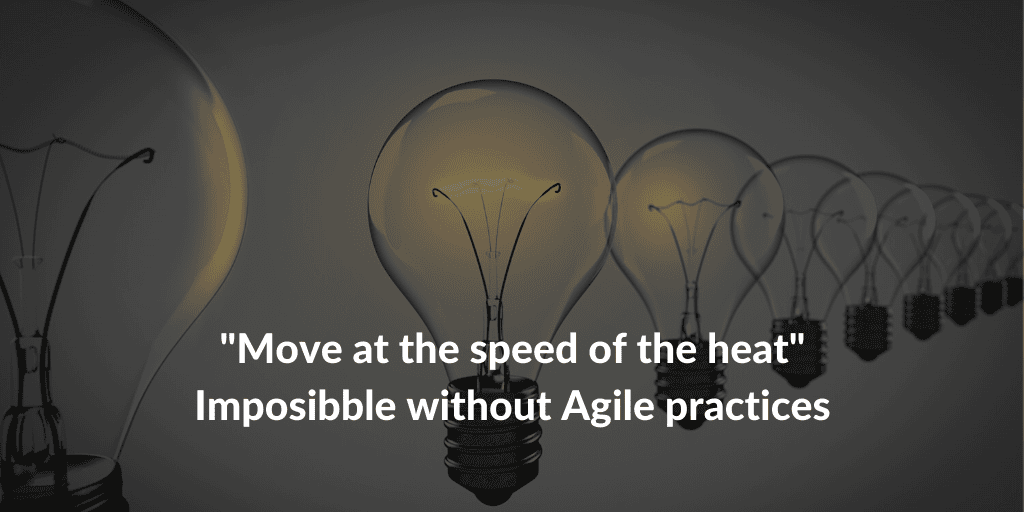 Liza Andersson is a Project Manager Global Sales Operations at FLIR Systems Trading Belgium.
She is passionate about Agile, never gives up and can tackle any type of Project Management challenge.
What's your current job title? What is it you actually do?
My current job title is Global Sales Operations Project Manager. I drive our global efficiency and standardization projects. I also oversee numerous local initiatives that are divided into two continents and five FLIR facilities.
How did you arrive to follow a project management career?
I like to get things done. I don't want to waste any time in the current when the future is where we want to go. I have strong execution skills, no patience and value teamwork as the only way to accomplish something. This is how I came to feel right at home in the project management role.
I began my career with FLIR six years ago in the order processing department, where I valued supporting our customers and improving minor work procedures around me to ease my day. First, when we had a change in management in my local office I got the chance to start participating in projects. This gave me and other colleagues the opportunity to display other talents than only our daily skills.
The new local management changed the view on how we work within my local office, promoting what you are good at and finding others that are good at the things where you lack skills. The combination became a very fertile ground for self-development leading to new job opportunities.
For some of my colleagues, this led to new positions bordering Global Trade Compliance, some took the path of Business excellence and quality. But for me, this meant an introduction to project management. I always worked organized and in structures so for me to take this path was a natural step.
FLIR considers itself an Agile organization, how does that mirror in your daily work?
Yes, we truly work Agile in the deeper sense of the word. FLIR doesn't just say it works Agile, we really have it as our core principle of work methods. I notice our Agile way of work through our TFM (the FLIR method), lean project improvements and our IT Scrum Masters that run projects. The Scrum Masters focus on training business teams on how to work Agile and how to utilize it efficiently in Project Management.
To us at FLIR iterations, sprints and small deployments of deliverables are part of our core as we say we want to "move at the speed of heat" as we are ready to take on change at any form. The world is not static and if you chose to deploy solutions at its end game you might have missed the need of the customer.
Needs shift and change so fast today that the ability to move with it requires agile teams and solutions.
You have an AgilePM Certificate, how did that help you reach your goals?
In 2018 I got promoted from being a customer support agent to a project coordinator role. By doing so the doors opened up to global initiatives and working with our colleagues around the globe both in Asia and in America. After a year in this role, I felt the need to start training.
I couldn't rely on my standard toolbox anymore so I took a course of Agile PM at QRP Belgium. When my local manager, who is extremely Agile and Lean Six Sigma oriented, got promoted to become our global management I became global as well.
This made the need for a larger toolbox inevitable. I completed my Agile PM course, organised by QRP Belgium, in September 2019 and achieved my promotion to Project Manager thanks to this. Today I am looking at PMI courses to enhance my toolbox even further. I am also leaning towards Scrum Master certification to broaden my Agile toolbox even more.
What type of Agile frameworks are you currently using and/or planning on using at FLIR?
We are currently using SCRUM, Lean and Agile PM.
I am not planning to review any other at this time.
What about Agile and remote work, how did FLIR handle the current situation in regards to COVID?
As mentioned above Agility is one of our core mindsets. It took us just four days to shift from office work to remote and this for our entire business (excluding production and service).
By leveraging tools such as ADO, ZOOM, MS Teams and Skype we easily moved from face to face meetings into daily scrum sessions etc through MS teams and Zoom. Tools such as Mindmanager with joined editing efforts made it possible to brainstorming remotely and agree on areas of focus without the need of meeting in person.
What is the biggest issue/change you see in your network at the moment regarding PM?
Currently, I am struggling with the ability to enable resources as not many of the team members work on projects full time. However, ADO seems to have solved this issue and this is something I am seeking more information regarding setting up a good process to tackle resource requests.
What's your advice on how to solve/face the above-mentioned issue/change?
Stay connected to other Project Managers around the globe. If we can leverage each other's experience we will build a better project organization within our own organization too.
What are three things you've told yourself that you would like to learn in the near future to develop yourself as a professional?
Personally I have set three topics that I am going to tackle in 2020
Do a 360 feedback review to enhance my leadership skills
Shift my focus from operational to transformational and framework (PMI)
Improve my skills in the tool ADO and get a certification
Liza Andersson
Liza Andersson is a Project Manager Global Sales Operations at FLIR Systems Trading Belgium.
She is passionate about Agile, never gives up and can tackle any type of Project Management challenge.