ITIL ® framework is the most widely accepted approach to IT Service Management in the world.
The ITIL v4 certification scheme provides comprehensive, practical and proven guidance for establishing a service management system, providing a common glossary of terms for businesses using IT enabled services.
A practical guidance to improve IT services

Onsite courses in Zurich and Geneva

Virtual and E-learning solutions
What is ITIL®?
ITIL framework is the most widely accepted approach to IT Service Management in the world, and is used globally by millions of practitioners.
For over 25 years, ITIL has been providing organisations with a practical guidance to improve IT services. ITIL is fundamental to businesses, enables transformation and helps organisations realize value.
The last version of the framework, ITIL v4, is built on established ITSM practices and expands itself to the wider context of customer experience, value streams and digital transformation, as well as embracing new ways of working, such as Lean, Agile, and DevOps.
ITIL 4 provides a practical and flexible basis to support organisations on their journey to the new world of digital transformation. ITIL framework provides an end-to-end IT/digital operating model for the delivery and operation of tech-enabled products and services and enables IT teams to continue to play a crucial role in wider business strategy.
ITIL v4 Certification Scheme
There are four certification levels within the ITIL 4 scheme:
ITIL Foundation
ITIL Managing Professional
ITIL Strategic Leader
ITIL Extension Modules
ITIL Practice Manager
ITIL Master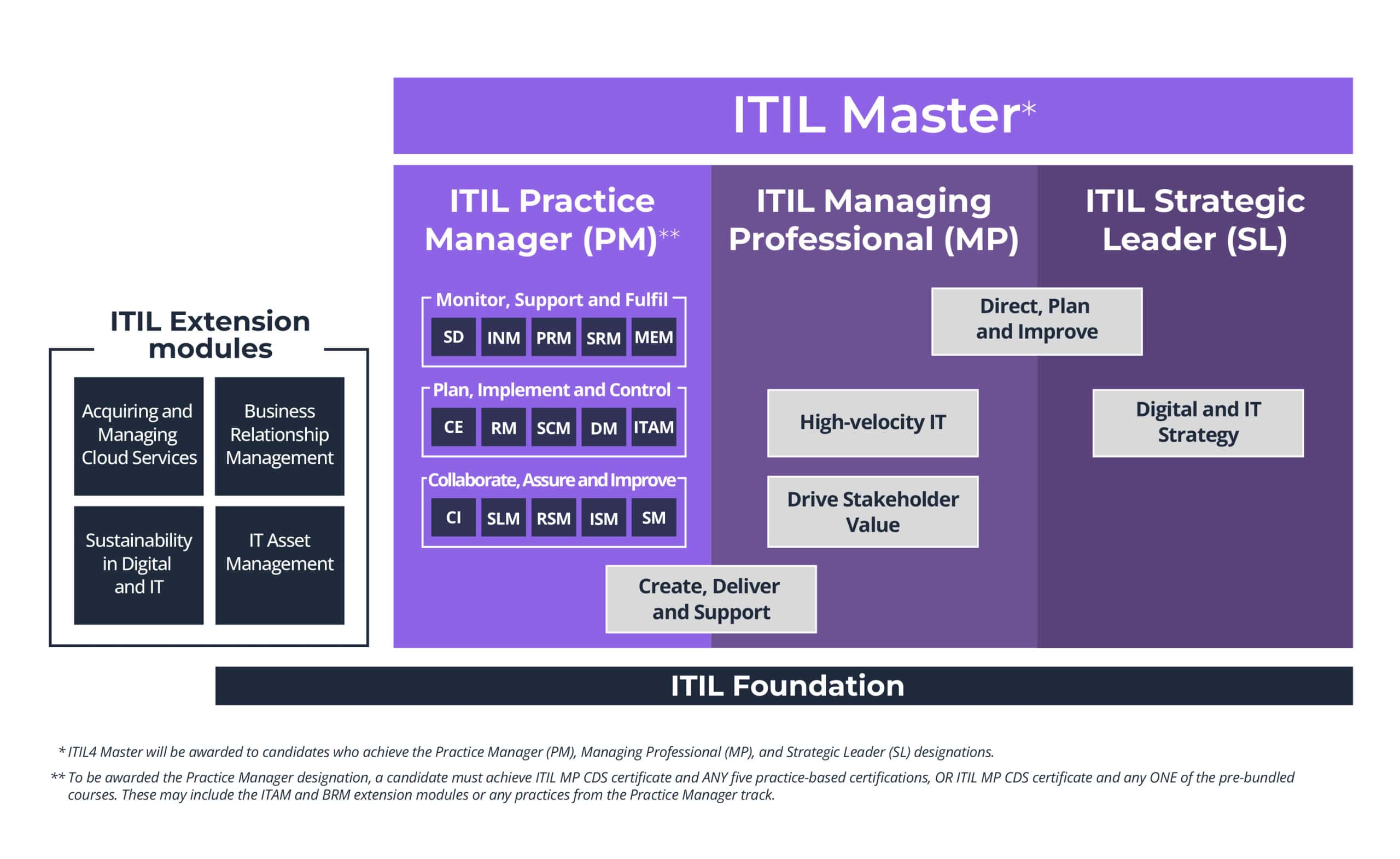 After the ITIL v4 Foundation certification candidates can choose between two different streams:
ITIL Managing Professional (ITIL MP)
ITIL Strategic Leader (ITIL SL).
ITIL Practice Manager (ITIL PM)
1. The Managing Professional stream provides practical and technical knowledge about how to run successful IT-enabled services, teams and workflows. ITIL 4 Managing Professional consists of four modules:
2. The Strategic Leader stream recognizes the value of ITIL, not just for IT operations, but for all digitally-enabled services. Becoming an ITIL SL demonstrates that the individual has a clear understanding of how IT influences and directs business strategy.
ITIL v4 Strategic Leader consists of two modules:
ITIL Strategist: Direct, Plan & Improve (universal module)
The individual practice courses are intended for professionals that want to prove and validate their skills in specific practice areas.To achieve the Practice Manager designation, you need to have completed 5 individual practices plus the ITIL Specialist: Create, Deliver and Support module (common module between ITIL MP and ITIL PM).
ITIL Training
QRP International is an accredited training organisation (ATO) for ITIL. Check our training formats and pick one that suits your needs or work best for your colleagues.
Supports organisations to keep pace with an ever faster and complex business environment
Supports organisations to tackle modern challenges relevant not only for the IT Service Management professionals but also for the great number of professionals who work in the digital industry
Supports digital transformation
Helps processes improvement
Helps teams work more collaboratively
Brings more transparency between IT operations and development teams
Enables automation
Integrates new and emerging technologies and practices
Ask for more information
If you have any questions or would like to receive further information please do not hesitate to contact us using the form.
20+ years of experience

30,000+ professionals trained

Only accredited training