Are you looking for an IT framework but you don't know whether ITIL or COBIT would be the best fit for your organisational needs?
Read on while we will try to help you by comparing the two most famous ITSM frameworks. Before we do so, we like to make sure that you are aware of the differences between IT governance and IT service management.
In an IT environment, doing the right thing can be summarized in what the IT team decides to focus on to achieve the business aims. This is considered IT governance.
When this has been decided, the IT team will focus on doing things right. In practical terms, this translates to how the IT team will carry out this task. This is considered IT service management.
IT governance works closely together with IT management. IT governance ensures that IT activities and processes are aligned with the overall objective, such as enterprise priorities. IT service management is the methodology used by IT teams to meet these objectives.
There are multiple certification schemes to support IT service management.
The two main certification schemes are ITIL v4 and Cobit.
Essentially, COBIT and ITIL are two different methodologies that will support you in achieving the same objectives. At a certain point, these two frameworks can and will also complement each other.
What is ITIL v4?
ITIL, developed by Axelos, is the most widely accepted approach to IT Service Management in the world.
It is a set of specialized organisational capabilities for enabling value for customers in the form of services. It lays down the foundation for international standard practices that organisations and businesses alike can adopt, in part or in full, to deliver service value to their customers.
ITIL 4, the latest evolution of ITIL, provides a tool that supports organisations in the era of digital transformation. It encompasses emerging practices such as Lean, Agile and DevOps and provides an end-to-end IT/Digital Operating Model. It covers the full delivery of tech-enabled products and services.
ITIL guides and even lead how IT interfaces with the wider business strategy.
ITIL 4 helps with:
Digital transformation
Improving processes
Helping teams work more collaboratively
Transparency between IT operations and development teams
Enabling automation
The ITIL 4 framework consists of the following key elements:
7 guiding principles
4 dimensions of service management
Service Value System (SVS)
Service Value Chain (SVC)
34 Practices
The focus of ITIL has steadily evolved over the years. Currently, its objective is to deliver value to the customer in the form of services, also mentioned as value co-creation. The key objective is to understand the parameters and needs involved in good service delivery.
This is viewed from the service provider's perspective, looking at the customer and/or business.
What is COBIT?
COBIT is an IT governance framework developed by ISACA to help businesses develop, organize and implement strategies around information management and governance.
COBIT Foundation 5 is the latest version of the ISACA framework. It provides a general end-to-end overview of a company's IT governance system, highlighting the central role of ICT in the process of creating value for businesses of all sizes.
COBIT 5 helps to:
establish, communicate and impose the rules (policies) to be followed
provides tools to verify alignment (compliance) with the rules
measure the level of compliance of the organization
manage/mitigate policy deviations
The COBIT framework consists of the following key elements:
5 Fundamental principles for the governance and management of the IT Enterprise
7 Enabling elements
A reference model for the process approach
The focus of COBIT has, just like ITIL, evolved. Its key objective is to ensure services are delivering stakeholder value from a business perspective, looking at a service delivery engine.
Difference ITIL and COBIT
COBIT focuses on the overall enterprise when creating and managing the governance system.
On the other hand, ITIL v4 focuses on even the smallest opportunities for value creation between service providers and service consumers.
This means that COBIT is concerned with the overall system, whereas ITIL 4 is concerned with every process within the system regardless of its size.
ITIL v4 has been continually evolving by applying an active and modular approach to IT service management. Consequently, ITIL 4 can be used by any organisation to manage and improve its IT services at all levels and at any size.
COBIT is equally comprehensive in its coverage of IT governance. However, unlike ITIL v4 it would be difficult to scale down COBIT for use in a smaller organization. Yet, ITIL 4 and COBIT have been created for different purposes, so it would be unrealistic to expect them to apply to the same situation.
IT governance is normally considered the study of 'what' an organization needs to achieve, whereas management is usually about 'how' to achieve it.
In other words, COBIT is the governance framework and ITIL is the execution framework.
Organisations need to take a comprehensive look at IT services and govern them with the assistance of a robust governance framework. Moreover, the framework will need strong support from the top of the organisation to achieve its aims.
It is evident that COBIT can work in harmony with ITIL v4 in any complex IT environment. Particularly, the implementation of a COBIT governance system will be greatly supported by the existence of ITIL 4 practices in that IT environment.

Whereas COBIT focuses on the governance of enterprise IT, ITIL v4 focuses on management and execution of IT in the enterprise for value creation. Enterprises should use COBIT for deciding the 'what' part of the IT service value equation and should depend on ITIL 4 for seeking answers to the 'how,' 'when,' and 'where' questions.
Both frameworks can be applied in a specific environment to work together.
The presence of one in a certain environment will benefit the implementation of the other.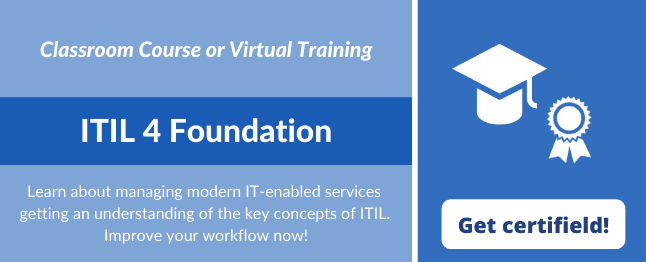 Source: ITIL® 4 and COBIT® Axelos white paper written by Vishal Vyas
COBIT® is a registered trademark of ISACA® in the United States and other countries.
ITIL® is a registered trademark of AXELOS Limited, used under permission of AXELOS Limited.
All rights reserved.