Kanban is a well known Agile framework that helps
visualize your work,
limit the work in progress,
maximize the efficiency (or flow) of the team.
Kanban is a simple system for creating products, based on continuous delivery and constant improvement. Kanban is widely applicable and is therefore gaining popularity among all types of Agile teams, from sales to operations.
→ Want to find out more about other Agile frameworks and methodologies?
Check out this blog post about the daily stand up meeting. 
How do Kanban boards work?
The main component of the Kanban framework is the Kanban board.
The Kanban board is a tool to visualize the workflow of the project. The board shows the workflow and all related tasks, this helps to better understand your processes and provides an overview of the workload. The visualization of the workflow offers the transparency that will help quickly identify problematic work stages.
The Kanban board will help teamwork more efficiently. The Kanban board is available for the complete team and everybody can access it to find his/her responsibilities. Everyone can see what each team member is doing and therefore the Kanban board also functions as a motivator to pursue better performance.
The Kanban board can be used either as an online tool or in the office itself.
The board uses
cards,
columns,
swimlanes,
WIP limits.
All these aspects help to give an overview of the workflow.
Kanban cards
The Kanban cards are the virtual representation of tasks. Each card is filled with information about the task, like its description, the deadline, the status. Kanban cards are assigned to a team member or members, who will be responsible for executing the task.
Kanban columns
The Kanban columns all represent a different stage of the workflow. The Kanban cards move from column to column until they reach their full completion.
Kanban swimlanes
The Kanban swimlanes are horizontal lanes that can be used to separate different teams, services or activities.
Work in Progress limits
The Work in Progress limits restricts the maximum amount of tasks in the different columns of the board.
That means that there can only be a total of tasks in a certain stage of the workflow. The WIP limits help you prioritize tasks and allow you to focus on current tasks.
The Kanban board is not static and can be adapted by any team. That means that you are free to add as many columns and tasks as you want. You can decide where to put the WIP limits and whether you would like to use swimlanes. The Kanban board is to be tailored to your specific workflow and needs.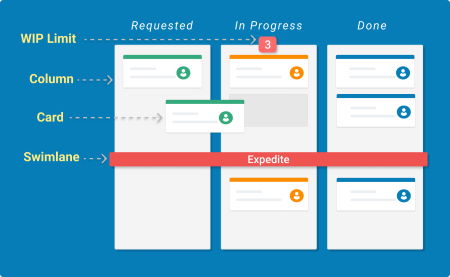 How to use a Kanban board? 
The Kanban board is a very intuitive tool that anyone can use and understand at first glance.
But what are the best ways to use the board?
Tailor the board for your project
Look for workflow bottlenecks
Help your team focus
Improve time management
Define a Kanban policy
1.Tailor the board for your project
Many first Kanban boards start with three simple columns:
'to do',
'in progress'
'done'.
If that works for your project, it is great. But consider that you can also extend the number of columns.
'In progress' can turn into 'working', 'waiting for response' and 'review'.
Start with what you are doing now and make the changes to your Kanban board gradually and over time.
The board is under constant change and changes should occur organically without a rush.
2. Look for workflow bottlenecks
If there is one column where all tasks seem to pile up, it means that something does not go right in that process.
This can be due to a temporary situation, like a sick team member that can not finish his/her tasks or a serious bottleneck.
The Kanban board shows where to pay extra attention and helps you to come up with improvements.
A more detailed Kanban board will give better insights.
3. Help your team focus
If you make use of the WIP limits on the Kanban board, you help your team focus on the high priority tasks. Often tasks pile up in the 'in progress stage. If you put the WIP limits, team members will first have to finish their 'in progress' tasks before they can start with new ones.
This way, the Kanban board helps your team finish assignments that are already in progress and stops the team members from multitasking.
4. Improve time management
The Kanban board provides a complete overview of the current status of a project and the team.
It gives a real-time status on the progress of the project. With that, you can consider cancelling the progress reports and regular progress meetings and save a lot of time.
Make sure your Kanban board is not static, but keep on looking for improvements to your board in order to improve your workflow even more. This way you continue to become more efficient.
5. Define a Kanban policy
It does not have to be much, but make sure that every team member knows what the process policy is.
Define when to move a card from one column to another column, define what information is needed in your card etc. Each team member needs to understand for example when to move a card or when to add information to a certain task.