Renew your PeopleCert Certification through CPD Points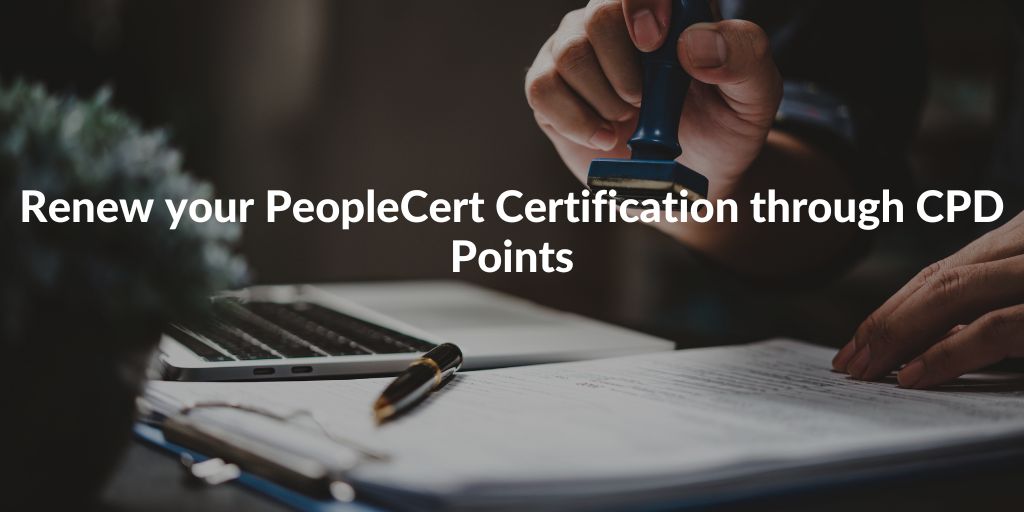 Starting from 2023, PeopleCert announced that all Global Best Practice certifications will need to be renewed after three years. This way PeopleCert can assist candidates in their lifelong journey and inspire them to keep on developing their professional skills.
Besides retaking the same exam or taking further courses and certifications, the third option is collecting and logging CPD (Continuing Professional Development) points.
How to log your CPD Points each year
You can further develop your professional skills by logging CPD points through the MyAxelos portal.
To keep your current certifications valid, CPD points can be logged against an individual or multiple certifications. For each Product Suite, candidates must submit at least 20 CPD points each year, across different categories of CPD, for three years consecutively. At the end of this period, your certification renew-by date will be extended by three years, and the cycle will repeat.
These points must be submitted by the date on which you originally passed your most recent exam within the Product Suite. For example, if you originally passed the exam on 1st April, your 20 CPD points must be logged by 1st April each year.
What are the PeopleCert Product Suites?
Renewing a certification can be done within the same product suite. An ITIL® 4 certification will not be renewed by obtaining a PRINCE2® certification, but could be renewed by taking any other ITIL 4 certification, such as ITIL 4 Specialist: Create, Deliver and Support.
Product suites are as follows:
ITIL 4 Product Suite: All ITIL 4 certifications
Project, Programme & Portfolio Management Product Suite: PRINCE2®, PRINCE2® Agile, MoR®, MSP®, MoV®, MoP®, P3O®
What are the different categories of CPD points?
Below you can find some examples (a more extensive overview can be found on the PeopleCert website):
Professional experience: applying best practice in the workplace or coaching colleagues in relation to best practice
Professional education: PeopleCert certifications or other certifications from non-PeopleCert accredited training organisations
Community: organising or attending industry or best practice related events
For any questions, please reach out to us anytime or have a look at PeopleCert's website.