Project Management and Hospitals performance. Interview with Claudia Kary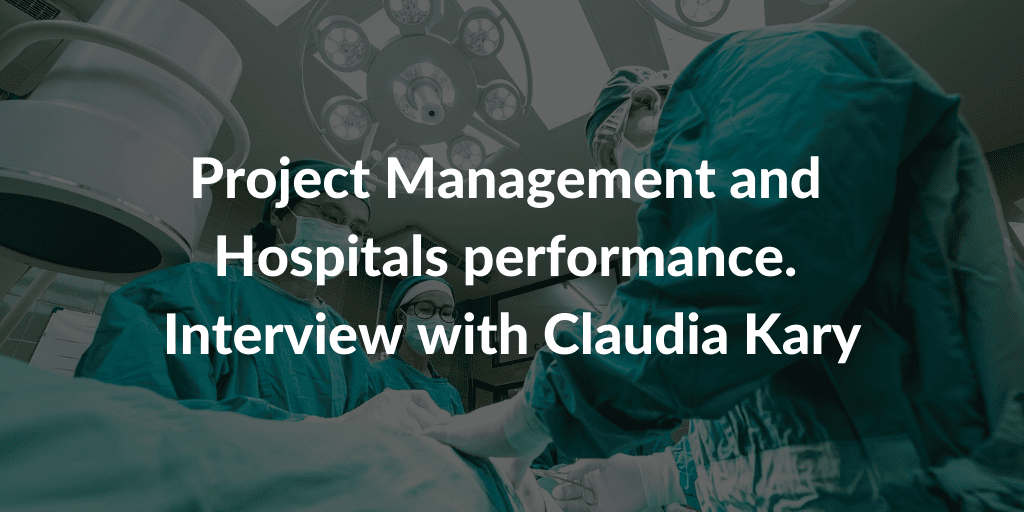 When in 2001 Claudia set up her training, consulting and assessment company for project, program and project portfolio management she had a vision of making an impact on improving project success. She had seen too many projects fail, organisation wasting money and resources, and the aspired benefits not being achieved.
Who is Claudia and why did she do it?
Read her responses to our interview below.
What's your current job title? What do you actually do?
I currently have 3 jobs. I am the Owner and CEO of Profeo Ltd. – the consulting company I founded in 2001 which specialises in supporting organisations in the implementation of project, programme and portfolio management standards and the set-up of PMO.
As a consulting company, my employees and I worked with many organisations establishing best practices in project, program and portfolio management.
QRP International and the training sector of Profeo merged in 2017 and I am now also a Managing Partner at QRP International acting as the Business Development Manager for QRP's training portfolio in Switzerland.
In 2010 the Business School of Lausanne (BSL) asked me if I wanted to take over the Project Management training for the MBA and EMBA students. I ended up becoming an associate professor at the Business School of Lausanne where I teach the subjects I have been involved with since the beginning of the 90ies to the master students of International Business.
Being an associate professor at BSL forces me to stay up to date with all the newest trends in those fields in order to assure that what my students learn remains relevant and reflects the current practices. I need to keep informed on the new trends in organisational management and other issues organisations are facing in this millennium.
In my courses, I do not just lecture but make my students execute programs and projects and in 2019 I made them launch a program and execute three initial projects for the hospital sector, amongst which there was a project to execute a survey and identify the Project Management Maturity in the hospitals of Switzerland.
Why the hospital sector?
We won a tender with the Insel Spital in Berne in 2006 and I was fascinated by the challenges the hospitals are facing and therefore decided that I needed and wanted to learn more about that sector.
My first client was instrumental in "teaching" me and I have attended workshops, conferences and lectures further extending my knowledge about this sector ever since.
By and by, we developed an expertise in the sector and gained more customers where we performed assessments, delivered consulting and trained employees in different departments.
I think it is one of the most challenged industries and I believe one which can profit from professional portfolio AND project management the most, BUT a cultural change will be required.
What makes projects in the hospital environment exceptional?
I cannot easily sum this up. It is definitely one of the most challenging industry: rapid changes of trends, exploding costs, new technologies, big data, more "customers", changing "customer" behaviour, outdated legacy systems, not enough staff; I could go on.
To counter these challenges, a sheer enormous number of projects need to be executed.
Many projects are completely novel; the technologies are new, the outcome will change established work practices etc. Hence, many projects are highly complex and risky,
Profeo Ltd., 04.01.2020, Project_PM Healthcare Summit_Interview Questions_E_V001.docx 2/2
AND expertise is difficult to come by. Too much needs to be done in a short time, and like all industries – or even more so the hospital sector – resources are short.
How can Project Management best practice standards improve performance in hospitals?
The staff have enough challenges figuring out how to implement completely novel technologies and approaches. One thing that could – however – be simplified is how to manage the projects. So, if they had a standard and tools in place this would mean that there would be one worry less.
What's your advice on how to deal with these challenges?
Project Management cannot be looked at in isolation. Without a clear strategy supported by a structured, supported and agile Portfolio Management, the best and most comprehensive Project Management Standard will not achieve its objective of preparing the hospitals for the challenges to come.
Also, as I said before, many of the projects to be implemented will require an organisational change. Therefore the topic of Change Management needs more attention and proven practices need to be executed (maybe through MSP) in order to ensure changes are lasting and stakeholder resistance can be overcome.
Hospitals should analyse their greatest weaknesses and improve step by step.
The survey my students executed and its results will hopefully help them to establish a road map.
Since 1984, Claudia Kary has managed and supervised various projects of varying complexity for companies in various industries around the world.
In 2001, she founded the globally active company Profeo Ltd, based in Zurich. They set up the mechanisms within an organization and ensure that the entire organization has the necessary capability to align projects with the corporate strategy.
Claudia Kary on Linkedin