The first paperless College meeting of the European Commission: interview with Laurent Kummer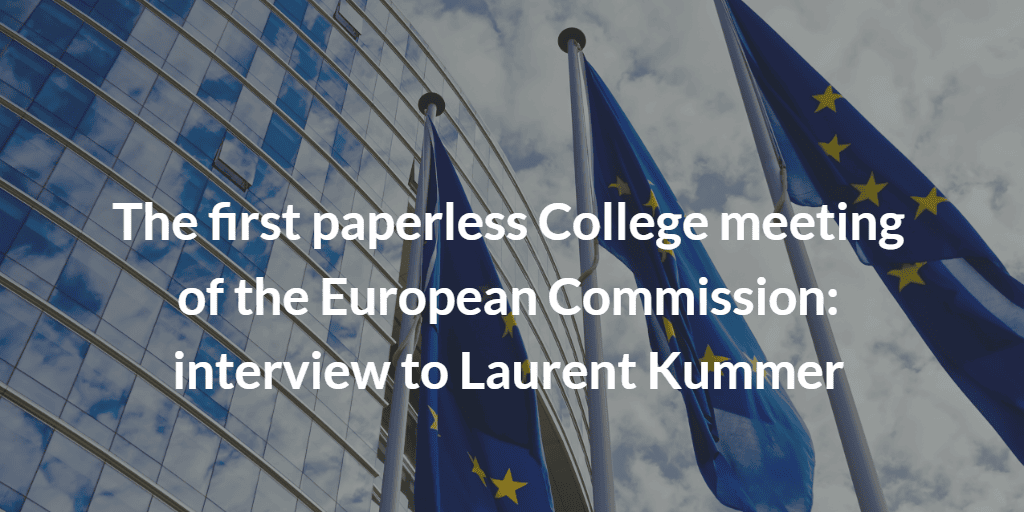 Laurent Kummer is a Senior Project Management Consultant for the European Commission and works on developing and promoting PM², the project management methodology used and sponsored by the European Institutions.
At the end of 2019 he was actively involved as Project Manager in a very challenging project inside the European Commission. We interviewed him to know more about it.
'6 weeks to deliver a paperless solution and break a 60 years old habit'.
Can you tell us more about the project? 
This project came from a demand from European Commission President Ursula Von der Leyen after her election. She wants to lead by example in showing that the highest decision-making meeting of the EU, the College of Commissioners meeting, can be run paperless, thus avoiding printing over 2 million copies of document every year.
Another requirement came complicating the demand: the president usually asks all participants to her meetings to leave all personal electronic devices outside (smartphones, tablets etc…), both for security reasons and also so that people are focused on the meeting and nothing else. We then had to think of special electronic devices that would be kept in the iconic Jean Monnet meeting room.
What was for you the most challenging part of the project?
And what was, in your opinion, the key for the success of the project?
The constraint was essentially the time: we had less than two months to deliver an innovative solution that meet both security criteria (some documents are sensitive) and usability (users are VVIPs with no particular IT skills).
On the pressure side, we were told there was no plan B, it was announced publicly upfront, so there was a clear image/reputation damage risk of not delivering on time…
At this level, and with a new President, competition of egos was also clearly a risk: everybody wants to please the new boss, so roles and responsibilities distribution has to be airtight.
That's where PM² came into play: with crystal clear governance model and Responsibility matrix, with its communication management template and how it involves project sponsors and management in the project, it was a serious asset in our hands.
Concretely when you jump in such a demanding project you have to focus on first-time right delivery and little else. Soft skills are put to a test: calm; patience and influencing skills are paramount to get what is needed fast.
How did PM² support you?
With the PM² RASCI* table we were able to quickly communicate on who does what. PM² promotes a balanced governance model where the business side plays an important part in the successful delivery, but it also means the business manager must know PM².
It was thankfully the case, as my counterpart in the business was also PM² certified – this definitely simplified the communication: we all knew how to structure and organize the work using PM² artefacts such as the Work Plan and the Charter. It allowed for precise requirements collection and scope guardian, allowing to stay focused on the delivery, with clear visibility of the risks and issues.
*RASCI is a Responsibility Assignment Matrix (RAM), a way of representing and clarifying the roles and responsibilities for a given activity. RASCI stands for: Responsible, Accountable, Supports, Consulted, Informed.
What were the results?
In the end we tried to keep things very simple: known tablets, known software, no innovation on the security layers, but it was the integration that was delicate. The Project Manager is like an orchestra conductor in this case, and must ensure all play their part when they are supposed to.
We delivered on time (with even a couple of weeks to spare) and the President was happy – it was the first item she mentioned in her first press conference as President:
"I want to report from the very first College meeting, which was for the very first time a paperless College meeting, it was completely digital."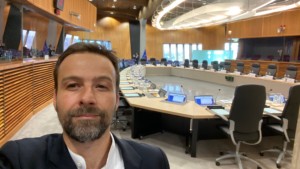 (In the picture above, Laurent Kummer in a paperless Jean Monnet meeting room.)
Source: https://ec.europa.eu/commission/presscorner/detail/en/speech_19_6660
Laurent Kummer

Laurent has been managing projects and programmes for over 20 years, as an engineer in the industry for General Electric and then for the public sector. He works now on developing and promoting PM², the project management methodology used and sponsored by the European Institutions and contributes to the development of the ISO 21500 project management standard. He is a Lean Six Sigma expert, PMP and of course PM² certified.