What is a Business Analyst? The role and responsibilities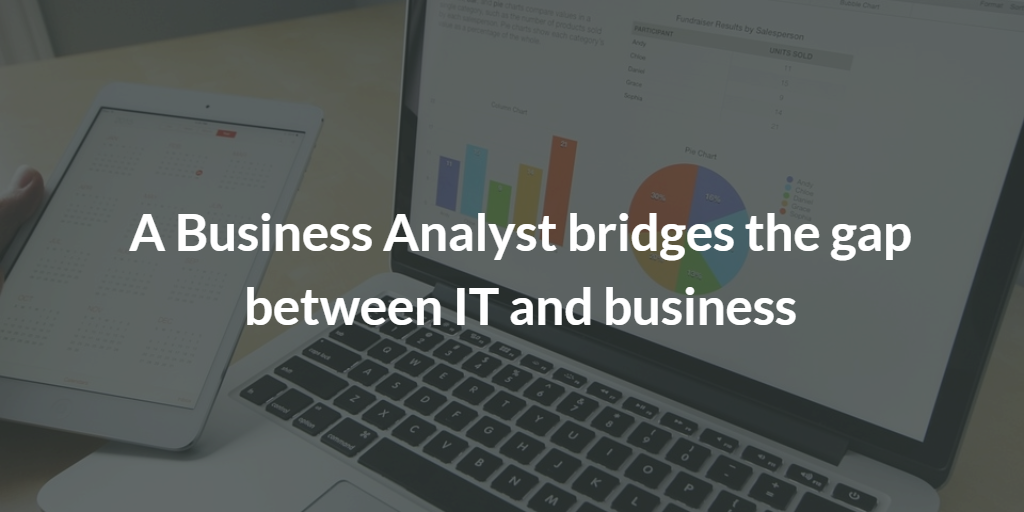 Business Analyst (BA) is someone who helps organizations improving processes, services, products through data analysis, documents and assess the business model or its integration with technology (help to bridge the gap between IT and the business). The Business Analyst is accountable for understanding business change needs, assessing their impact on the business, analysing and documenting requirements and supporting the communication and delivery of requirements with relevant stakeholders.
The role of the Business Analyst
The Business Analysts main responsibility is to help businesses to implement technology solutions in a cost-effective way. The professional should determine the requirements of a project or program and communicate them clearly to stakeholders.
This person is the professional responsible for facilitating technical solutions to business problems. In addition, a Business Analyst defines, analyzes and documents requirements by studying the overall business and information needs of an organization.
The Responsibilities of the Business Analyst
The responsibilities of a business analyst can vary from business to business. Some responsibilities may be limited to IT-related projects only, while other organisations may involve the business analysts in areas such as sales, finance, marketing or operations.
Anyway, the business analyst needs to maintain a holistic view of the business systems with a focus on 4 key areas:
Organisation
People
Process
Technology
The business analyst's common responsibilities are:
Creating a detailed business analysis, outlining problems, opportunities and solutions for a business.
Analyse the structure of a business, how it uses technology and what its goals are.
Formulate ways for businesses to improve.
Strategic analysis.
Process and value stream mapping.
Skills and competency mapping.
Help design, document and maintain system processes.
Oversee the implementation of new technology and systems.
Communicate key insights and findings to the product team.
Defining business requirements and reporting them back to stakeholders.
The Competencies of the Business Analyst
The competencies according to the BABOK® guide are identifiable in six main skill sets:
Analytical Thinking & Problem-Solving.
Behavioural Characteristics.
Business Knowledge.
Communication Skills.
Interaction Skills.
Software Applications.
The Analytical Thinking & Problem Solving competencies are the core skills for a business analyst and include
Creative Thinking,
Decision Making,
Problem Solving,
Critical Thinking.
Behavioural Characteristics skills are fundamental to get Trust since the BA will access to information, systems and other high-value assets and will be involved in critical projects.
These skills include
Interpersonal and consultative skills
Time management and organisational skills
The Business Knowledge gives BAs an added advantage and includes
Business Principles & Practices
Industry Knowledge
Organizational Knowledge
The BA must ensure to Communicate key insights and findings in a clear manner and this is the reason why the Communication Skills are key competences like
Oral and written communication skills
Visual Communication
Active listening
The Business Analysts facilitate interactions between stakeholders in order to help them resolve disagreements regarding the priority and nature of requirements, to help stakeholders articulate their needs. These interaction-skills includes:
Facilitation & Negotiation
Leadership and management skills
Teamwork
A business analyst is expected to have knowledge in applications that help his/her daily business activity, and s/he needs to be able to use many types of software from the most popular to the most specialised like document management systems, content management systems, which are sometimes built specifically for organisation s/he is working for.