What is Programme Management?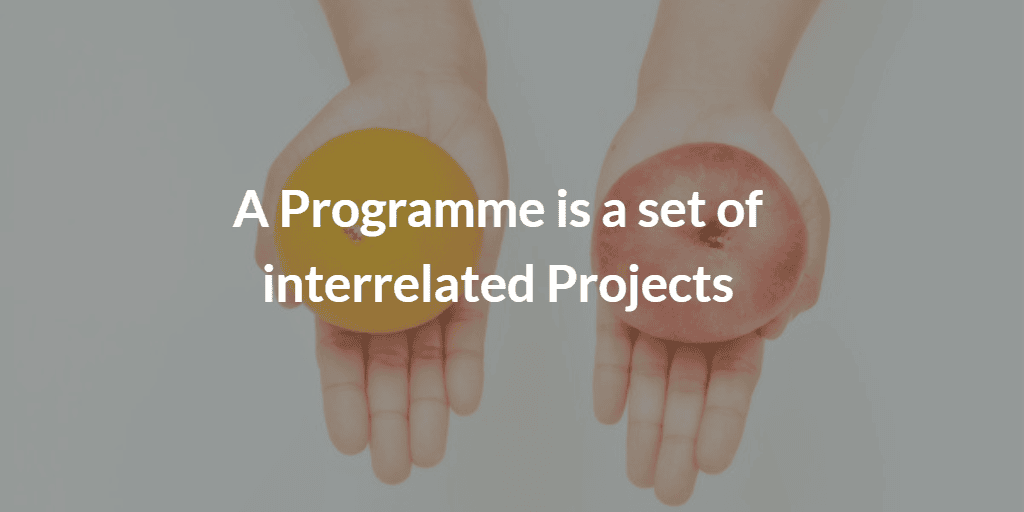 For the majority of enterprises, managing change is the hardest challenge ever and in a fast-paced ever-changing environment, the challenge is getting bigger and bigger.
Organizations are dealing with change in different ways: some of them own a well-defined strategy to proactively deal with change whereas, some others haven't a strategic vision and they respond to the continual change (competition, development, innovation) in a reactive manner.
The scope of a program is the coordination of all the activities involved in a change initiative accordingly to the company strategy. A successful program enhances change through managing, controlling and coordinating the enactment of a series of projects which share the same objectives in terms of results and benefits.
Change is obtained mainly through projects but Programme Management and Project Management are well distinguished. Actually,  a program can include projects enacted in different business areas, it can be a standalone program or it can be part of a portfolio so, thinking about a program as a huge project is misleading.
Here two fundamental characteristics of a program:
it has to fulfil one or more strategic objectives,
its focus is on Changement when Changement realizes, the program is to be considered closed.
The difference between a project and a program is not in the length: the key concept is that a project is focused on delivering a specific output while a programme may deliver ongoing outcomes and business benefits.
So, what is Program Management?
In Axelos' words Programme Management "exists to coordinate, direct and oversee implementation of a set of interrelated projects". Both in Project and Programme Management the planning of the workload and tasks is essential but in Programme Management planning is tied up with the business strategy more than being dependant to specific results (deliverables) as happens in Project Management.
Moreover, Programme Management implicates also departments of the organization linked to Changement in order to enable Changement correctly inside the business areas involved. When change ends, the involved business areas will find themselves in a situation with a changed business as usual which is expected to generate benefits in contrast to previous BAU.
Programme Management: why is it important?
The majority of modern and structured organizations use project management methodologies but project management alone isn't always sufficient. Program Management is necessary to do deal with complex and broaden requests for change in fact when facing great changes, risk and complexity increase.
An organization can manage several projects at a time. In the eventuality of a complex change, there could be several projects for a long period of time and it gets harder and harder to manage them by utilizing just Project Management tools.
Moreover, projects usually have a short length and the project team starts working on a new project once the final output is delivered. As a consequence, project teams did not always look after the benefits realization or that the output is delivered correctly to operation teams.
The inner nature of the project is focussing on the results and not on medium-long term benefits.
The pivotal importance of programme management is on the maintenance of visibility and control on several projects.
Thanks to Programme Management together with project management, the organization can count on a set of skills capable of ensuring a concrete return on investment of their change initiatives.
The role of the Programme Management and, of course, of the Programme Manager is pivotal for the modern organization which have to be well aware of the risks and impact that big projects can have on their business.