News
Lesen Sie die neuesten inspirierenden und positiven Neuigkeiten und Informationen zu den Themen PM und IT.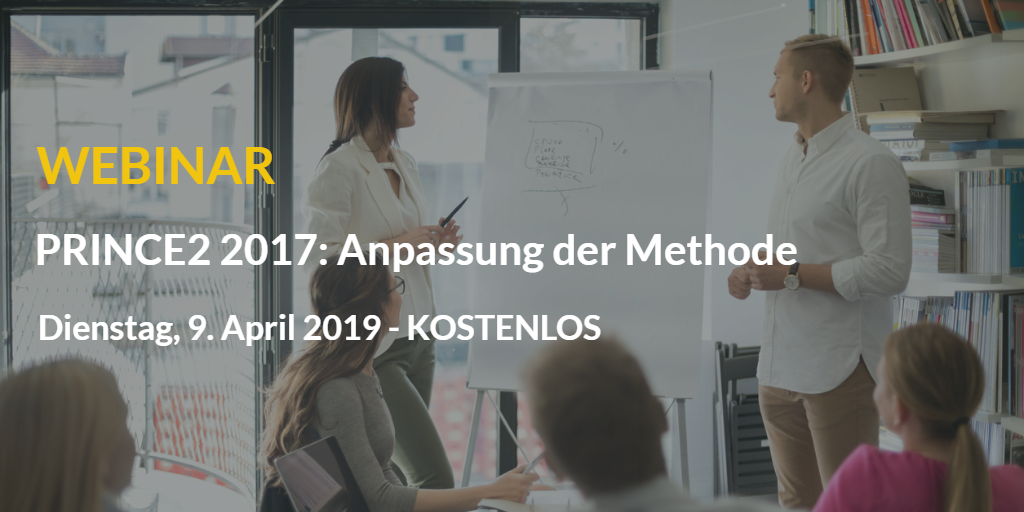 Datum: 07/03/2019
Was bedeutet "Anpassung"?
"Anpassung von Methoden oder Prozessen an die Situation, in der sie verwendet werden" (aus "Erfolgreiche Projekte managen mit PRINCE2", Seite 30).
Während das Vesentliche der Methode unverändert bleibt, konzentriert sich die PRINCE2 Version 2017 auf das Prinzip ANPASSUNG und unterstreicht die Anpassung von PRINCE2 an unterschiedliche Projekte.
Dieses Prinzip wird erneut durch ein völlig neues Kapitel zum Thema "Anpassung und Umsetzung von PRINCE2" betont. In diesem Kapitel zeigen die Autoren, wie PRINCE2 auf jeweiligen Situationen angepasst werden kann und MUSS. Sie tragen viele nützliche Tipps dazu bei, was angepasst werden kann und wie. Zuletzt, "Wenn die Organisation keine Anpassung in Erwägung zieht, wendet sich PRINCE2 nicht an" Lernbuch, Seite 31.
Möchten Sie dieses Kapitel lesen?
Machen Sie es jetzt ! Laden Sie das Dokument kostenlos herunter!
PRINCE2 2017 Kapitel 4: Anpassung und Umsetzung von PRINCE2
Worum handelt es sich bei "PRINCE2 und Anpassung"?
Bei Anpassung geht es darum, die richtige Balance zwischen einer Laissez-faire Betrachtungsweise und einem übermässigen Engineering Ihres Projektmanagement zu finden. Es geht darum, Ihre Fähigkeiten und Erfahrungen einzusetzen, um PRINCE2 an die jeweilige Situation Ihres Projekts anzupassen" (PRINCE2 2017 Update – Anpassung erhält bessere Ergebnisse, Axelos).
Anpassung kann auf Prozesse, Themen, Rollen, Managementprodukte und Terminologie angewandt werden: bei der Anpassung geht es um die zweckmässige Anwendung von PRINCE2 in einem gegebenen Projekt.
Dieses 30-minütige Webinar wird Ihnen zeigen, wie Sie PRINCE2 anwenden können: für sehr einfache Projekte (PRINCE2 auf A4) oder auch für grössere Projekte, die eine komplexere PRINCE2 Anpassung erfordern.
Benötigen Sie ein Grundverständnis von PRINCE2?
Oder benötigen Sie einen vollständigen PRINCE2 Kurs?
Warum Sie an diesem PRINCE2 Webinar teilnehmen sollten?
Nach Ihrer Teilnahme an diesem Webinar, werden Sie verstehen, worauf Sie achten müssen und wie Sie Ihren Ansatz an die Grösse und die Klomplexität Ihres Projekts anpassen können, ohne Ihre Management Fähigkeit einzubetrachten. Auf diese Weise können Sie bewusst auswählen, welche Elemente des Projektsmanagement vereinfacht oder entwickelt werden sollen, so dass Sie Projekte unterschiedlicher Grösse und Komplexität miteinander konfrontieren können.
Möchten Sie praktische Einblicke in die Anpassung von PRINCE2 erhalten?
WO & WANN ?
Standort: von Ihrem Computer !
Datum: Dienstag, 9. April 2019
Uhrzeit: 12.00 – 12.30 Uhr
Sprache: Deutsch
Trainerin: Claudia Kary, PRINCE2 Trainerin und Beraterin
Teilnahmegebühr: KOSTENLOS! Registrierung erforderlich
Anmeldung: das folgende Formular bitte ausfüllen und auf "Jetzt anmelden" klicken.
ZUSÄTZLICHE INFORMATIONEN
Wenn Sie weitere Informationen zu diesem Webinar oder zu QRP International Kursen wünschen, wenden Sie sich bitte an uns. Wir werden Sie so schnell wie möglich per E-Mail oder Telefon kontaktieren.
Lesen Sie mehr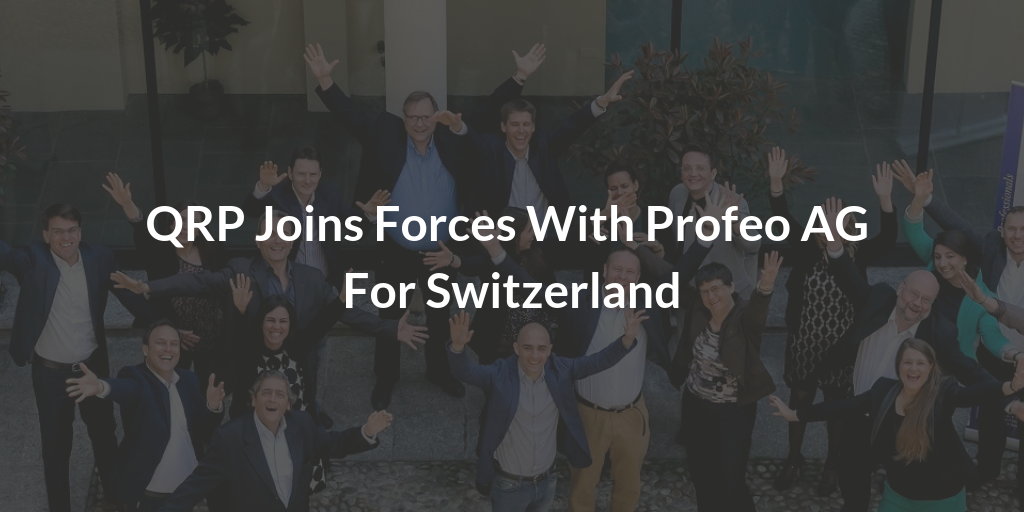 Datum: 03/01/2019
QRP International is expanding its activities in Europe with the opening of a new office in Switzerland
Switzerland is a highly interesting market: its economy has long been renowned for its developed service sector, with its banks gaining the country an impressive reputation in its financial industry. The Swiss economic miracle is based on the intensive development of country's intellectual potential.
QRP International aims to develop professionals to facilitate changes through its Training, Certification and Consultancy services in Best Practice Management Methods.
QRP International Story: Who We Are
QRP International is a leading player in Best Practice Training in Europe.
We are specialised in supporting organisations developing their personal skills and successfully implementing Best Practices.
QRP International is accredited to provide training and certification in the following Best Practice methods:
Since its foundation in 2000, QRP has grown rapidly year after year: We built our international experience and expertise by delivering training to professionals and organization in 42 countries and in 8 languages.
We have trained more than 20.000 delegates in order to support their business objectives on a global scale with a local presence. Our team is made up of trainers and advisors with international experience and different backgrounds: they have developed their expertise in satisfying clients' expectations and delegates' NEEDS.
Our head offices are in Como, Paris, Brussels, Cologne and now in Switzerland.
A Message from our CEO, Jacobus Groot:
"QRP aims to be at the forefront of change management. As our core purpose says: we develop professionals to facilitate change.

Together with the historical leader in project management in Switzerland PROFEO AG we are pleased to launch our services with a completely new website under a new name PROFEO-QRP.

Having all the 3 language capabilities needed in the house with qualified trainers and consultants we are ready to serve the market with the major methods to manage change: from AgilePM to PMP and from PRINCE2 to ITIL. Our collaboration with PROFEO AG will extend to a wider offering of consultancy services in 2019.

Please enjoy our wide range of courses under PROFEO-QRP in your language of choice.

Happy learning!
Our Mission: Why Training in Project Management?
Our mission is to support individuals and organizations in the development of skills for implementation of Project, Programme, Portfolio and Change Management. For this purpose, we provide high quality in all of our services: from the analysis of clients business needs to the tailoring of the services offered.
Our quality is guaranteed by our experience in the industry: with 18 years of activity we know what is required to make training successful.
But the key factor to our success is our people: our train-the-trainer programme and extensive internal training programs make our staff highly skilled and our team deeply motivated.
Working at QRP means for us to help professionals build news opportunity. We have passion for change and improvement. Our mission statement is 'helping companies to get better communication across departments, to save time and money throughout the project's life and to give agility to processes'.
We believe that companies could improve their overall business performance thanks to Training, Certification and Consultancy services in Best Practice.
We've helped thousands of professionals improving their skills.
We can help you too.
Our Work: How Do We Help Professionals to Develop?  
QRP goal is to provide information and to create awareness on the importance of setting a strong method for your projects and portfolio.
How?
We organize free events where professionals can network with peers, share lessons and experiences and ask finally their questions to the experts from the field.
We strive to provide you with the most updated information about Project, Programme and Portfolio management.
We would keep you update with the latest market trends and give you the big picture of the PPM world.
MORE INFORMATION
Do you believe that we can help you improving your career or the project's life of your companies?
Please contact-us and we will reply you as soon as possible.
Lesen Sie mehr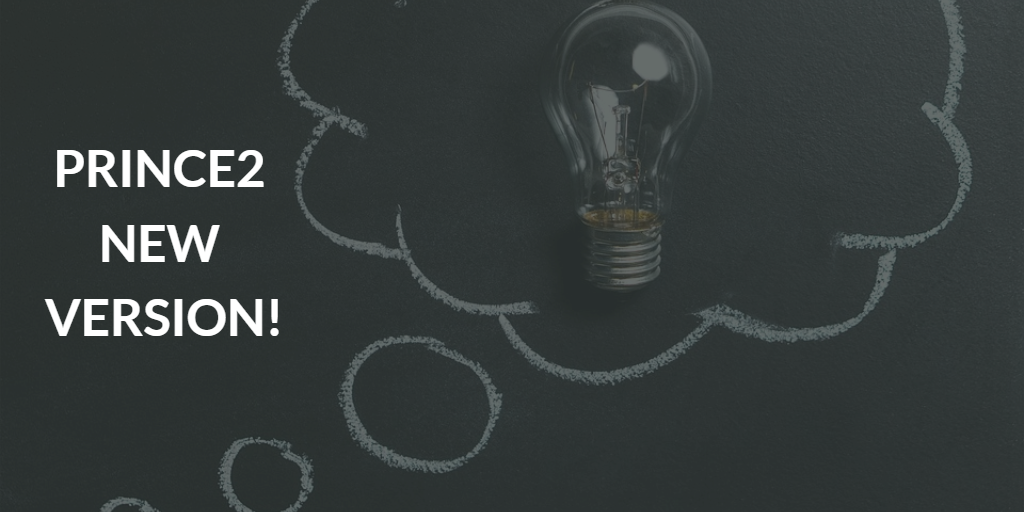 Datum: 19/04/2017
In January 2017 our partners and owners of PRINCE2, AXELOS, announced the upcoming arrival of updated PRINCE2 guidance and Foundation and Practitioner examinations. Together, these form PRINCE2 2017 and represent the first major update to PRINCE2 since 2009.
WHY HAS PRINCE2 BEEN UPDATED?
The success of PRINCE2 lies in its compilation of proven best practices in project management taken from academics, business professionals, and consultants across the years. Since its creation, at least two million PRINCE2 exams have been sat in over 150 countries worldwide. This is a clear testament to the value of PRINCE2 to individuals all over the world.
But we must all recognize that the business world is changing, and even something as tried and tested as PRINCE2 is not completely resistant to change. As ever with PRINCE2, the update has been a collaborative approach amassing feedback from a wide range of PRINCE2 Practitioners; the people best positioned to assess PRINCE2 through their continued application of the method across a range of working environments. This feedback has resulted in a thorough, evolutionary, update of PRINCE2.
 WHAT ARE THE MAIN CHANGES TO PRINCE2?
The PRINCE2 update will see a new edition of the PRINCE2 manual, plus updated training materials and Foundation and Practitioner examinations. These will be launched in mid-2017. This update does not change any of the fundamentals of the method – PRINCE2's overall structure of seven principles, themes and processes remains unchanged. But the emphasis and treatments within these have shifted.
The main changes to the guidance are a greater emphasis on the following areas:
tailoring PRINCE2 to the needs of organizations and project environments;
the principles that underpin PRINCE2;
a greater link between the themes and principles;
the restructuring of the 'Themes' guidance to accommodate specific examples of tailoring;
the practical application of the method and guidance, with numerous examples, hints and tips.
PRINCE2 is a wealth of project management knowledge and Best Practice that needs to be conscientiously tailored to suit each individual and their organization. The updated manual, training and examination will help you tailor PRINCE2 effectively to ensure you get the most out of the certification.
PRINCE2 has always been rooted in real life experience. This update can be trusted to provide practical, authoritative and relevant guidance to anyone managing a project in today's environment.
WHAT DOES THE UPDATE MEAN FOR ME?
If you are a qualified PRINCE2 Practitioner, you do not need to worry. We do not believe that those with a valid PRINCE2 certification need to take the new examinations. However, we would highly recommend to contact us to get an overview of the suggested paths to remain updated!
This important update reinforces PRINCE2's unrivaled reputation for Best Practice in project management. As always, the focus is on helping individuals and organizations across a range of job roles, sectors and geographies, to successfully manage projects.
CONTACT US
Feel free to get in touch should you have questions remained open!
Lesen Sie mehr